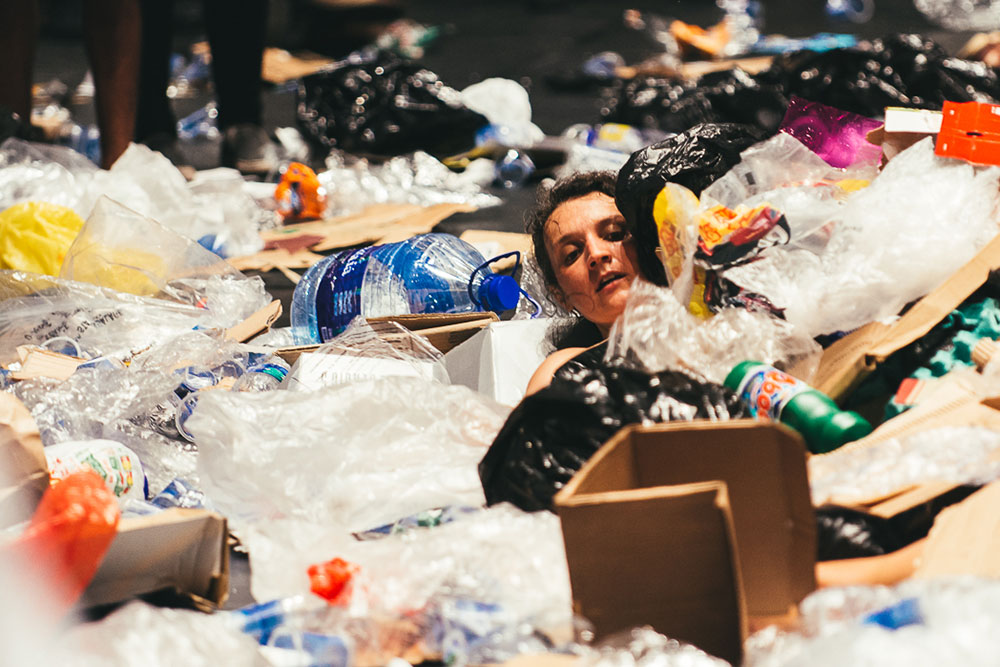 By: Anti Status Quo Companhia de Dança
When: March 9th and 10th at 8pm
Where: Tendal da Lapa
Length: 140 minutes
Age rating: 18+
Sinopsys
Of Flesh and Concrete — A Choreographic Installation is an invitation to become fully immersed and to actively participate in an experience that proposes a reflection on the urban human condition from the body perspective. The piece begins with audience entering the performance space, wearing paper bag masks. Then, a game takes place, in which fiction and reality overlap and the choreographic work is unveiled. Space and audience are both constituent parts of this show, which places human body and behavior at the center of dramaturgical questions.
On the edges between performance, urban intervention, visual arts, contemporary dance and social experiments, the production of Anti Status Quo Dance Company raises questions about how to live in society in large cities, and the logic of the current economic system.
History
The Anti Status Quo Dance Company is one of the most active and renowned independent contemporary dance companies from the Brazilian Midwest. It was founded in 1988, in Brasília, by the choreographer Luciana Lara, who directs the company along with the producer Marconi Valadares. The company stands out for its experimental creations, studies on movement and dance language, critical and political dramaturgies, as well as for its dialogue with visual arts and philosophy. Their latest productions investigate the relationship between body and city; social behavior; art as an experience; relational art and spectator participation. Diverse formats are used by the Anti Status Quo Dance Company in its productions, such as installations, urban interventions, exhibitions and site-specific actions.
During its 29 working years, the Anti Status Quo Dance Company has created ten choreographic pieces: De Carne e Concreto — Uma Instalação Coreográfica (2014); Autorretrato Dinâmico (2009); Cidade em Plano (2006); Aletheia (2003); Coisas de Cartum (2002); Dalí (2000); Nada Pessoal (1998); No Instante (1996); Anti Status Quo Dança (1994) and Efeitos (1991).
Credits
Artistic Direction, Dramaturgy and Conception: Luciana Lara
Research: Luciana Lara, in collaboration with dancers and guest artists
Cast: Camilla Nyarady, Cristhian Cantarino, Déborah Alessandra, João Lima, Luciana Matias, Marcia Regina, Raoni Carricondo and Roberto Dagô
Dancers / Collaborators in the Creative Process: Camilla Nyarady, Carolina Carret, Cristhian Cantarino, João Lima, Luara Learth, Raoni Carricondo, Robson Castro and Vinícius Santana
Guests Artists / Collaborators in the Creative Process: Marcelo Evelin, Gustavo Ciríaco and Denise Stutz
Costumes and Masks: Luciana Lara and cast
Lighting Consultant: James Fensterseifer and Marcelo Augusto
Production: Marconi Valadares
Photos: Mila Petrillo