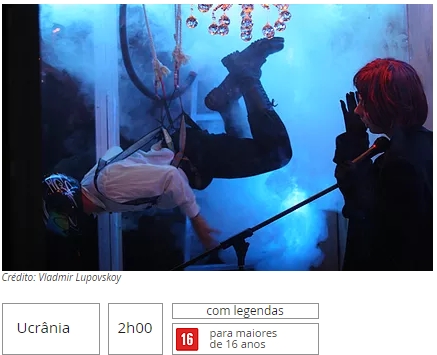 director
Andriy Zholdak
Svoboda Zholdak Theater and Cherkasy Academic Drama Music Theatre named T.Shevchenko
Satiricon Theater – A. Raykin
credits
Author: Georg Büchner
Director, Playwright and Choreographer: Andriy Zholdak
Dramaturgist: Calr Hegemann
Lightning Design: Andriy Zholdak
Choreography: Andriy Zholdak, Tita Dimova
Costume Design: Tita Dimova
Soundtrack: Vladimir Klykov
Production: Kathya Zholdak
Woyzeck: Sergiy Bobrov
Maria: Vira Klimkovetska
Cast: Yuriy Berlinskiy, Olexandr Kuzhmenko, Mykola Zaynchkivskiy, Oleg Telyatnik, Olexandr Pavljutin, Irina Chvarkova, Yulia Donska-Gumenna, Maria Maruschak, Krzhanivska Tetyana, Kondratskiy Mykhailo, Zhyla Andriy, Honcharov Pavlo, Olena Brekharya, Natalia Vigran, Illiy Skrypnichenko
Technical Team: Kovalenko Mykola, Pischukov Oleksandr, Romenskyi Bohdan, Koval Hryhoriy, Omelchenko Igor, Gumennyi Oleksandr, Osypova Raisa, Shpak Leonid, Koval Viktoriya, Avdeiev Oleksandr, Selin Oleksandr, Mysnyk Ruslan, Skrypnichenko Ievgen, Shuvaieva Lidiia, Zholdak Daniel
Managing Director: Volodymyr Osypov
Co-producers: Deutsche Kulturwochen (Germain Cultural Weeks) in Ukraine, september and October 2008, German Embassy in Kiev, Goethe-Institut in Ukraine, "Culture-Europe" Agency in cooperation with the Svoboda Zholdak Theater and Cherkasy Academic Drama Music Theatre named T.Shevchenko.
synopsis
Woyzeck and Mary are inside an aquarium or escaping into outer space? Anyway, this will require protective helmets. Who could free us from that narcissistic corridor of mirrors? Who could cut the tubes in which we are captives? Woyzeck, of Zholdak, exposes humanity as a cinema glass box display and then it looks with a totally theatrical and dreamlike perspective to the condition of being – caught between men and women, rich and poor, slave and master, moral and conduct, animals and gods: a surreal encyclopedia, anarchist and wickedly fun of life and art, from which no one can escape. Of course, there is also a coyote.
video