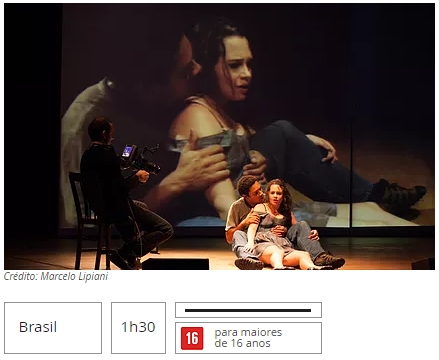 direction and conception
Christiane Jatahy
company
Cia Vértice
credits
Direction and Adaptation: Christiane Jatahy
Based on the text Miss Julie, by August Strindberg
Cast: Julia Bernat e Rodrigo dos Santos
Set Design: Marcelo Lipiani e Christiane Jatahy
Art Director: Marcelo Lipiani
Photography and Live Camera: Paulo Camacho
Stage Manager: Thiago Katona
Video Technical Manager: Felipe Norkus
Sound Operator: Pedro Montano
Lighting operator: Leandro Barreto
Graphic Design: Radiográfico
Management: Nathalia Atayde
Production Director: Henrique Mariano
The CIA. VÉRTICE DE TEATRO is sponsored by Petrobras.
synopsis:
The Seagull, by Chekhov, depicts the conflicts of a group in a russian farm in the late nineteenth century. One summer afternoon, the young artist Treplev presents a play starring Nina, an actress with whom he is in love. The opinions of the guests on the work differ and Treplev's mother, renowned actress, discourages him to create new art forms. Soon, Nina decides to go to Moscow after fame and Trigorin, a famous novelist.
video