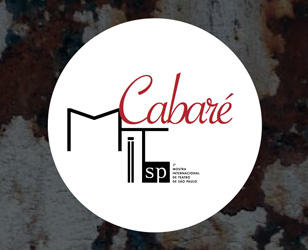 The MITsp Cabaret is a meeting point for artists and the public, on the evening after the performances. It is a space for artists and guests to improvise with their art, their expression and exchange in a relaxed atmosphere. Minimum age for entry: 18 years.
 03 and 10/March
Transcênica
Identity and stereotype are the themes of those nights, inviting the public to break barriers and transgress with the artists, evoking subjects suggested throughout the meetings. With Cida Moreira and other artists.
04 and 11/March
Music Call
Bands, musicians and guests will perform in a playful and improvised jam session. With Alaíde Costa, Suzana Travassos, Luisa Micheletti, Luiz Felipe Gama and Ana Luiza.
05 and 12/March
Urban Monologues
Poetic evenings made by actors and singers, with urban artistic manifestations. With Eugênio Lima & Núcleo Bartolomeu, Carlos Careqa, Georgette Fadel and Gayoto.
06/March
All Black
Jam session, choir performance, dance and Afro rhythms. With MC Roberta Estrela D'Alva, Leo Bianchini and Bangaly Konate and DJ Eugênio Lima.
13/March
By Brazil
MITsp 2016 closing party with Brazilian rhythms. With Odara Group (members of Nenê da Vila Matilde Samba School) and Tutu Moraes.
R. James Holland, 57 | Barra Funda – São Paulo SP
+55 11 2365 3655