Pedagogies of teatra encounter: affectivity of knowing to cross out and take risk 
With: Bernardo de Assis, Daniel Veiga, Gabriel Lodi and Léo Moreira Sá.
Panel about the new constructions and transmasculine protagonism in theatre, cinema and tv.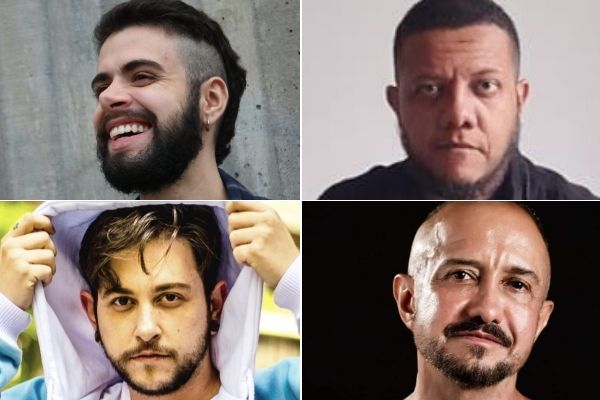 Bernardo de Assis is an actor graduated at CAL, a theatre director graduated at UNIRIO and specialist in Communication, Diversity and Inclusion in Organisations by PUC-Minas. He's a trans man, suburban, bisexual, storyteller and has participated in more than ten shows. In audiovisual he took part in the series Nós, Transviar, Todxs Nós and Noturnos, besides soup-opera Salve-se Quem Puder.
Daniel Veiga is a screenwriter, playwright and actor. Black and trans man, he directed theatre between 2009 and 2016; he was the first trans teacher in the dramaturgy course at SP Escola de Teatro. He won the Kikito for Best Actor in 2020. As a screenwriter, he is in Sala Narrativas Negras, from Paramount Channel, was part of CoLAB Netflix, is a Queer Literacy advisor at Globo TV and educational advisor of Dramaturgia Pluriversal LGBTQ+ course, by Escola Itaú Cultural. Co-founder of CATS-Collective of Transmasculine Artists.
Gabriel Lodi is an actor, voice actor and transactivist. In theatre, he was an actor in Trilogia Anti Patriarcal, by Cia Satyros, and in the play Agridoce, by Zen Salles. For TV, he acted in Todxs Nós, available at HBO Max, and in the independent production Seu Olhos, part of Amazon Prime catalogue. In cinema, he's in the main cast of Para Onde Voam as Feiticeiras and Revolução 2020. As a voice actor, he voiced Tyler from game Tell Me Why, as well as Netflix and other studios productions.
Leo Moreira Sá is an actor, author, light designer, playwright, screenwriter and co-founder of CATS – Collective of Artists Transmasculines. He began his career in 2009 as an actor and lighting technician and, in 2011, in addition to acting he's also done the lighting design of Cabaret Stravaganza, by Cia. Satyros, for which he won the Shell Theatre Award in 2011. In 2013, he wrote, produced and starred in the autobiographical theatre show Lou & Leo, directed by Nelson Barkerville. From 2014, he started working in the audiovisual industry.